Giusy is the mother of an incredible three-year-old boy named Mickey. Originally from Italy, Giusy and Mickey live in the United Kingdom. After undergoing five years of IVF treatment, including two miscarriages, the couple were thrilled to learn they were expecting a healthy baby.
Diagnosis of Klinefelter syndrome:
When Mickey was about eight months old, Giusy noticed he was slightly behind in his development. She had two friends with babies about his age, which allowed her to observe where they were developmentally. She started worrying that perhaps she wasn't doing something right, causing Mickey to be delayed. 
They were given home health visitors who visit the homes of children ages newborn through five.For Guisy and her son to see a pediatrician, they had to get a referral from their General Practioner, and then "maybe" they could see a pediatrician. Giusy began confiding her worries in her health visitor, who reassured her, saying, "Oh, you know kids have their own time." However, Giusy continued to notice that something wasn't quite right with Mickey. He sometimes seemed like an "absent baby" and a bit floppy.
While on holiday in Italy during the fall, she brought Mickey to a pediatrician, who noted some red flags with his development. They sought another opinion, and that doctor also felt Mickey was showing signs of delayed development. Initially, the doctors thought there might be a problem with the baby's brain. Mickey spent a week in the hospital that winter, where "they checked everything." It was opined that Mickey might be autistic.
He didn't sit on his own until he was a year old and didn't start crawling until he was 14 months. At 20 months, he started walking, and his language didn't start taking off until after his second birthday. Giusy recalled, "He was very absent as a child and in his world all the time. I could see he wasn't reacting to our talking to us playing so much." The tests revealed nothing wrong with Mickey's brain, so the family had the results forwarded to Austria for further review. Finally, they received the long-awaited results: Mickey had Klinefelter syndrome.
Establishing care for Mickey: 
Following the diagnosis of Klinefelter syndrome, Giusy felt as though no one "did anything" to help them better understand how to care for Mickey. It was explained to them that Klinefelter syndrome meant Mickey had an extra female chromosome and that he would most likely be infertile. Apart from telling them he might have some learning disabilities, little information was provided to the shocked parents. Giusy sometimes felt overwhelmed by the diagnosis and "cried a lot." She threw herself into researching the condition and found Living With XXY. Her husband didn't understand the condition until they connected with an Italian group run by Massimo Cresti, a man born with Klinefelter syndrome. A two-hour phone call with the group's founder helped him better understand Klinefelter syndrome, but it also made it a bit "harder because he realized that life would be a little different for his son."
Sharing with family: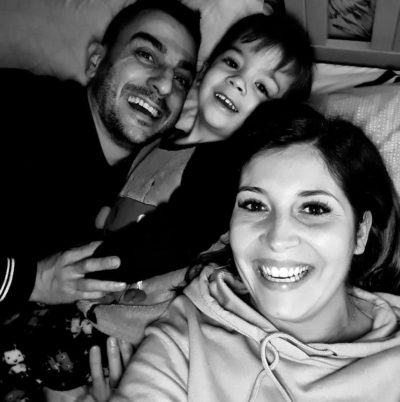 Giusy also brought some family and close friends into the fold, sharing Mickey's diagnosis with them. At first, it was hard for her in-laws to fully understand the diagnosis, mainly because it didn't seem as though there were many treatment options available to them until Mickey was much older. Giusy's friends were "really keen on helping" and said if there was any help that the family needed, let them know.
Upon returning to England, she wanted to meet with a provider to discuss the diagnosis but found it difficult to get referred to someone. She was told by the provider they eventually met with, "Yes, we have some kids that have this, but there isn't much that we can or will do," which was frustrating. While in Italy, there was the opportunity to meet with a specialist annually. In the UK, she was told to return when Mickey was nine. To meet Mickey's needs, Giusy plans to travel to Italy, where she must pay for services.
Raising Mickey:
While raising Mickey hasn't always been easy, Giusy said he is "the sweetest boy." The family tries to take it easy on him, as he can quickly become frustrated. Mickey is an "extremely active" child, so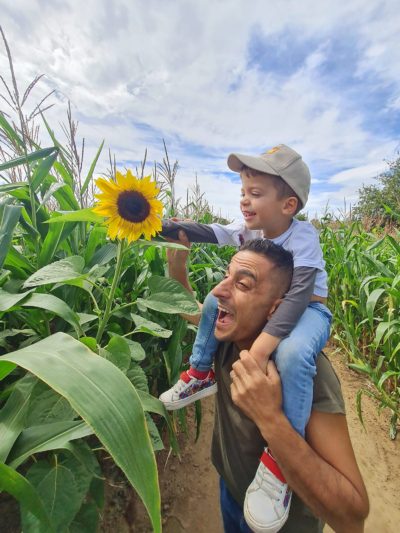 sitting down for things like drawing or coloring is currently a "no-go." Instead, Giusy focuses on getting him outdoors, running, and playing. It can be frustrating for his parents, but they continue to work towards understanding Mickey and his needs.
Giusy works closely with Mickey's teachers to implement a support plan to help him get up to speed with his development. She would like Mickey to have occupational and physical therapy, but neither is readily available in the UK. In the meantime, they are doing what they can themselves at home. 
Mickey is a social child who loves riding his scooter, riding a bike ride, and being at the park. He's a big fan of picking flowers and loves being outdoors. Currently, he's really into putting puzzles together. He loves bathtime and swimming on their visits to Italy. He's also a big fan of all types of animals. 
A year after Mickey's diagnosis, they returned to the doctor in Italy who had diagnosed him for a follow-up appointment. Giusy said, "She was over the moon with all his changes. He was running around and interacting with them when, like a year before, there wasn't much interaction. She was just pleased." In just one year, Mickey had "changed completely." Giusy thinks many of Mickey's improvements were due to the COVID-19 lockdowns and restrictions, saying, "We had such lovely weather that we could stay in the garden. We played a lot. I wasn't working as much, which helped create a bigger bond. I think probably us just spending more time together but not forcing anything."
Supporting their son: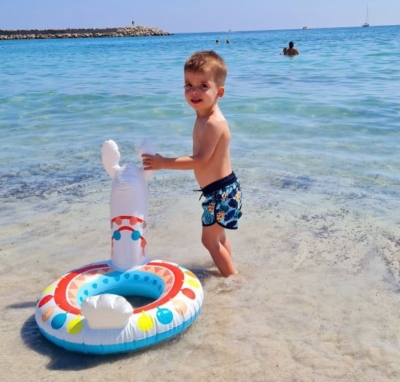 Giusy found Mickey's support through a nursery school where the teachers are educated in working with children with special needs. Since he started in the nursery, Giusy has noticed "so much change" in Mickey. When they enrolled him, she shared her concerns and what she had noticed about Mickey with the school's director, who knew precisely what Klinefelter syndrome was. They already had two students enrolled with the same diagnosis. 
However, apart from his school, Giusy hasn't felt much support on this journey and said, "I feel alone in the UK with my son's diagnosis."She recently connected with another Klinefelter syndrome mom, and the two met for coffee. She hopes to be able to help organize more support for parents of boys with Klinefelter syndrome in the UK, as there currently aren't any.
Saving a boy from termination:
Giusy also connected with a mother in Italy who is considering termination following a prenatal Klinefelter syndrome diagnosis. After talking with the woman for three hours, sharing pictures, information, and stories about Mickey, she ultimately changed her mind and decided to keep her baby. Although it wasn't an easy conversation, Giusy was happy to have helped her, "She's been told that her son will not live a normal life and will have many issues, and termination is the best option. She was going to terminate. I'm so glad she didn't."
Finally, Giusy added, "With my son, we are pleased about him. He experiences his challenges, but we love him. He's the sweetest guy ever. To any parents, he can have a wonderful life, and we love him so much. He's a gift. We had tried for a long time and now have him." 
Giusy Cattina lives in York, UK, and would like to connect with other families who would be interested via Facebook.