Forty one-year-old Chef Geoff Kruck was diagnosed with Klinefelter syndrome (KS) in 2012. KS is a genetic condition that affects fertility, energy levels and bone and muscle strength. One in 550 boys and men have KS, yet it often goes undiagnosed. In October, Geoff helped to raise awareness of the condition by participating in the Melbourne Marathon, with proceeds going to Healthy Male. He talks here about what it means for him to live with KS.
I found out the hard way I had Klinefelter syndrome. When I married my wife, I didn't have an overbearing desire to have children – I was just rapt to marry my best friend. I thought a family would come naturally down the track. You just assume it's going to happen for you when you're ready.
A couple of years passed, and I visited my father in far north Queensland. That made me appreciate anew what it means to experience a father's love. I have a very strong faith and I was able to connect and reflect on that during that time. When I got back home, I felt ready. Soon after, my wife and I started trying for a child.
We tried for nineteen months with no success. It was very frustrating. My wife suggested we get some fertility tests done. Mine showed that I had no sperm. The test was repeated and I had the same result. They said there is a chance I might have Klinefelter syndrome. We had some more tests and the diagnosis was confirmed. We had to face the possibility that we might not be able to have children.
I had not heard of KS, but I've since learnt a lot more about it. As well as fertility, it can affect everything from cognitive function to energy levels to sex drive. Being diagnosed made some things fall into place – why I'm as tall as I am, why I've always carried more weight around my hips, waist and chest, and why I often felt tired.
After the diagnosis, I was referred to an endocrinologist, which is a male fertility specialist. I had a biopsy, where tissue is taken from each of the testes. This got sent away to see if they could harvest any healthy sperm from the tissue. The result showed that it wasn't possible. It was hard news for both my wife and I to take. We became each other's rock, and we somehow navigated our way through. Let's just say it was a pretty grounding experience.
We received counselling, and there was still hope for us to become parents. One option was to try and conceive with donor sperm through IVF. I couldn't help thinking that none of my DNA would be passed onto the child. But my endocrinologist was fantastic; one thing he did tell me is that even if it's not your bloodline, you are there for the birth, you are raising the child as your own – it helped me to see things differently. Another option was adoption. We've had time to think on it and while we've decided not to go down either of those roads, it was good to know we had choices.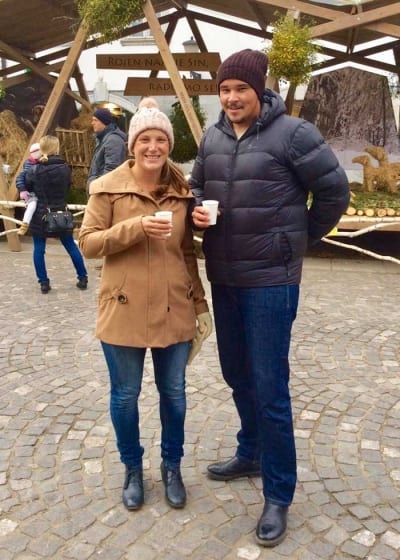 For couples going through this process my advice is to talk to others who are further along in their journey, as well as your specialists, and of course each other. Ask any questions that will help you make the decisions that are right for you. Take as much time as you need to get your thoughts in check. It's okay to feel the way you feel at any given time, including sadness and grief.
When I first got KS, I didn't know anyone with the condition. Some of the KS information I got in those early days from social media and in chatrooms was not always helpful. I would hear things about people with KS having learning difficulties. And yet the guys I've since met with KS have turned out alright – they're working, they're successful. Many are creatives, often working in the food industry like me. You need to focus on your strengths, and surround yourself with positive people. I have a strong faith, which really helps.
I've since come across a US-based website called Living with XXY run by a bloke called Ryan Bregante. He put me in touch with a couple of Aussie guys with the syndrome, which has been a great help. Given my experience, I find I'm now able to help people going through the same fertility issues we had.
One of the treatments for KS is testosterone therapy. While it doesn't improve your fertility and you don't have to have it, it's really given me a new lease of life. I have a lot more energy and I'm much more motivated to do things like exercise. It's helped with my sex drive and muscle development, and it's given me more confidence.
Information has got to come from the right sources. It's important to find a good endocrinologist, someone who is supportive and well-informed. More recently, Healthy Male has also been a great resource, particularly for medical and research information.
My wife got me thinking about being involved in the Melbourne Marathon – she's run more than a few of them in her time. I'm more of a swimmer than a runner, so participating is a personal challenge for me. With the KS, my joints don't always enjoy running. I think I will leave the running to my wife – I'll just be happy to walk it with my father-in-law!
Apart from raising money for Healthy Male, I want to raise awareness. For me, it's been a long road coming to grips with having KS, and sometimes it was a struggle. But it was also refreshing to know that there was an explanation for some of the symptoms I'd had my whole life. The more people that understand the condition, the less likely there is to be stigma around it. Some great people have helped me along the way. I'm ready now to give back to help other guys who are going through it.
---
Did you know?
Klinefelter syndrome:
Is a genetic condition – men with KS are born with it
Is also known as 47 XXY – men affected have an extra X chromosome
KS stops a man's testes producing sperm and testosterone
A key indicator of KS is small testicles (about the size of a grape) after puberty.
Learn more about Klinefelter syndrome and male hormones.