The Voice of Dave Ruckle
By Chelsea Castonguay
Dave Ruckle is a 48-year-old man living with Klinefelter syndrome. He resides in Massachusetts with his wife and two dogs. He shared what it was like learning about his diagnosis after trying to start a family in his late thirties.
Early life:
When Dave was born, his parents were thrilled to welcome their healthy baby boy into their family. However, his mother noticed something didn't seem right with her new son. She asked the pediatrician if it was normal for an infant's testicles to be so small. The pediatrician assured it was, saying most infants had small genitals. She was assured he'd grow out of it.
Dave repeated the first grade and began taking special education classes. He spent time in the school's Resource Room, getting assistance with assignments. 
By the age of ten, his mother's fears hadn't fully dissolved. She took Dave to the pediatrician, noting his testicles hadn't yet descended. The doctor said Dave was merely a late bloomer, but noted a slight curvature in his spine. Dave was referred to a specialist in Boston. At the appointment, the length of Dave's penis was measured, and his testicles examined. As Dave had a fear of needles, they didn't do a blood test. The doctor said Dave would grow up to be average, and sent the family on their way. 
Middle school:
In middle school, Dave took classes with students who had Down Syndrome, and multiple sclerosis. Dave felt embarrassed by his inclusion in these classes, because he felt like a normal guy.  He felt forced into those classes because he didn't learn like everyone else. His body was different from his peers, and was reluctant to shower after gym class. Dave described his preteen body as "pear-shaped," noting he "was chubbier" than the other kids.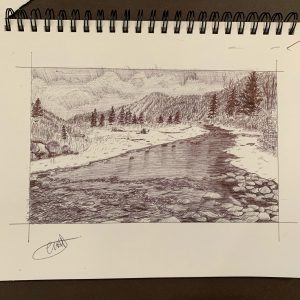 Life wasn't always easy for Dave growing up. By the time he was thirteen, his parents divorced while he was at home and his brother was in college. Dave bounced between his parents' homes, trying to avoid his mother's alcoholism. Affection wasn't freely given in his home, and Dave frequently found himself apologizing for things. He was a sensitive soul, and preferred to stay home where he felt comfortable and safe. 
Teen years:
By thirteen, Dave had begun experimenting with marijuana. He was soon smoking a lot. He found it hard to go into large crowds of people, and tended to be more of a lone wolf. Despite excelling at team sports, particularly baseball, he was drawn towards more solo endeavors. He spent time skateboarding, running track, or playing golf.
In high school, Dave "faded into the background". He found solace in art, and the time he spent honing his skills made school bearable for him. Dave had always been good at art, even as a child. He felt it was a bit of a family legacy, as both his father and grandfather were artistic. As his art skills increased, sports took a backseat. Dave realized he had talent, and began considering going to college for art.
Finding friends:
While freshman year "sucked," with time it got better. In his sophomore year, he met a guy who became his lifelong best friend. His friend was super supportive, and they discussed the differences in how Dave's body was built. Even though they didn't attend the same high school, they spent much of their time together. When Dave was targeted by a bully for having a differently shaped body, his friend stood up to the bully and defended Dave. 
Dave dated throughout high school, and treated his girlfriends kindly. He was "always sensitive" to the thoughts and feelings of other people. 
College:
As college approached, Dave wanted to pursue his dream of studying art. His guidance counselor said his grades would preclude him from getting accepted into a school. She suggested Dave join the military instead. Rather than accept this judgement, Dave's mother rallied around him. She helped him get accepted into Montserrat College of Art in Beverly, MA. His mother supported his ambitions, and was "really there" for him during his college search.
In addition to earning acceptance into art school, Dave was granted a $40,000 scholarship to school, based on financial need and his talent as an artist. Earning the scholarship provided the boost of confidence he needed to keep going towards his goal. 
For the first two years of college, Dave commuted to school. He felt "timid" about driving a stick shift car but set himself a goal to become a more confident driver. 
Life at college:
Dave began settling into life at college. When he was 21, he took his first drink. Having grown up with a fear of vomiting, he'd always avoided alcohol out of fear of getting sick. He had his first sexual experience, which led to an eight-month-long relationship. After the relationship ended, Dave moved out of her apartment and back home with his mother. The experience made him more confident with women, and he found dating much easier going forward.
After two years at Montserrat College of Art, Dave reapplied to the Massachusetts College of Art. He was accepted, and transferred to the larger school. He learned to advocate for himself. When he struggled with written exams, he went to his professors to request a verbal exam. While at school, he cultivated his painting skills, and became adept at abstract painting. He found success in taking whatever was in his head and putting it on canvas. 
College was "really awesome" for Dave. He enjoyed living in the dormitories, but around this time began experimenting more with alcohol. Although "drunk all the time," he was high functioning. During this time he lost contact with his mother for about six months. He found himself in a bad relationship, which made staying focused on his academics difficult. While he enjoyed the artistic side of his education, the coursework was trying. Despite these difficulties, Dave graduated with a Bachelor of Fine Arts in Painting.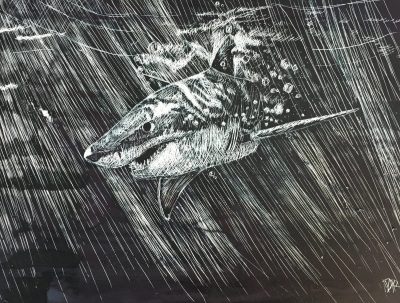 After college:
After college, Dave moved in with his brother and his brother's girlfriend in Boston. He started the first of what would be a series of jobs while he tried to figure out next steps. Dave worked in shipping and receiving at a t-shirt company, at the Institute of Contemporary Art as a gallery watcher, as a fork truck driver for an ice cream company, and as a digital dentist, taking photos of teeth and digitally correcting them.
At the age of 25, he landed a job as a tutor for children with learning disabilities at the middle school he attended. He moved home to live with his mother so he was nearer to work. He got hired by the people who taught him while in school. Dave fell in love with the job. He worked there for three years, and felt it was very empowering. At work he connected with the kids, and enjoyed how the work changed day to day.
Advanced education:
Around this time, his parents began strongly suggesting he pursue another degree. Dave applied to Lesley University in Cambridge, MA. The school understood learning differences, which made it a great fit. The strain of teaching during the day, taking classes at night, and the long commute began manifesting in anxiety. He took Zoloft to help manage it. 
While at Lesley University, Dave participated in a neuro-psych test. The test indicated he had Adult Attention Deficit Disorder, problems with sequencing, and severe test anxiety. As a result, Dave got extra time on exams.  Dave graduated with a Master's of Education. After taking the writing portion of the Communications and Literacy test seven times, Dave earned his teaching certificate. He was fired from his tutoring job after they realized they'd have to pay him tenure, so he searched for new employment.
Dave found a job with Salem Community Child Care, which was an afterschool program. Although only thirty minutes from home, it was a huge blow for him. He struggled to reconcile the idea that he had two higher education degrees, and was now working at an after-school program. 
Moving on:
Dave began thinking about settling down. He met his wife online, and asked her to marry him six months later. He didn't want to waste any more time. His brother had married, and had three children. All of Dave's friends were starting families of their own. 
The wedding was one of the "happiest days" of his life, and Dave embraced the multiculturalism his wife brought into his life. He went to Brazil for two weeks following their wedding. When he returned home, he landed a job in a picture framing business. Having experienced a back injury earlier in life, Dave reinjured it and required more surgery.
His wife stood by his side through his surgery and recovery, but Dave felt low. During that time he was experiencing erectile dysfunction, and symptoms of low testosterone. He didn't know what caused these feelings, and felt "worthless."
The diagnosis: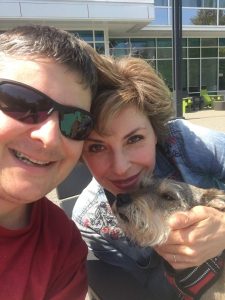 As their marriage progressed, Dave and his wife decided it was time to start trying for a family. Dave was 38, and felt ready to take that next step. However, after a year his wife still wasn't pregnant. Dave worried his years of using marijuana or his back injuries had somehow made it impossible for him to have a child.
 He went for a sperm mobility test. He felt distressed to learn he had low sperm mobility. The doctor told Dave he possibly had something called Klinefelter syndrome. In order to confirm the diagnosis, he suggested a karyotype test. The test was $3,000, and not covered by insurance. Dave felt there was no point in taking the test, and so waited ten years before continuing to pursue a diagnosis.
Even though he wasn't sure of the diagnosis, Dave felt his world beginning to fall apart. He'd always wanted kids of his own, and the news was devastating. His wife felt shocked and upset, but the couple went on with their lives. Dave felt deeply depressed, and was unable to have a sexual relationship with his wife. Over time, they grew further apart, and struggled in their relationship. Two years after the initial tentative diagnosis, Dave's primary care physician (PCP)  suggested he take the karyotype test, but Dave declined.
Saving his marriage:
Dave felt himself slipping deeper into depression. He was a prisoner of his own mind, and had no motivation to do the things he loved. His difficulties with intimacy continued to take a toll. After some time, his wife began exploring her relationship with God further. She shared her belief in the idea that the man's job is to provide for his wife, including sex and the merging of the flesh. Dave wanted to step up, and get to the bottom of what was going on to save his marriage. 
Armed with only a tentative diagnosis, Dave and his wife began researching Klinefelter syndrome. His wife discovered the Living with XXY Instagram account, and was excited to share it with him. As they explored the page and learned more about others living with the diagnosis, they felt more empowered. They realized they could handle the diagnosis, and could do something about it. Dave returned to his PCP. He was ready to get the karyotype done. 
Living with XXY:
When the karyotype test came back, Dave learned he did have Klinefelter syndrome. The diagnosis brought him and his wife closer together. It was a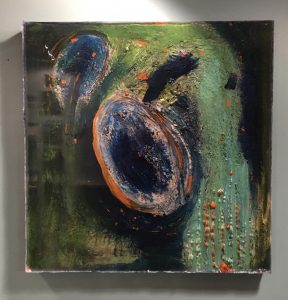 "sigh of relief" for Dave. Additionally, it provided the answers he'd been searching for most of his life. He was relieved to have answers about his past. Confirming the diagnosis provided some closure. Growing up, he didn't know what it was that made him different, but had accepted that was just how life was. With the understanding of the diagnosis, Dave was able to reflect on his life and experiences. He knows now there were things that weren't in his control, and were most likely related to his diagnosis.
Dave has accepted his diagnosis, and feels it isn't a bad thing at all. He wants others to know the information available online generally isn't correct, and to help correct the stigmas surrounding KS. He's "horrified" to think there are doctors advising parents to terminate their Klinefelter syndrome-diagnosed pregnancies. 

Treatment:
Dave focused on taking charge of managing his health. Diagnosed with Type 2 diabetes when he was 38, Dave revamped his diet. He's now a vegan, and is no longer diabetic. He recently began using testosterone gel. Overall, treatment has gone well. He has experienced some side effects, which he said sucks. 
What he wants others to know:
Once he understood his diagnosis, Dave felt empowered and motivated to help others. He learned more about Klinefelter syndrome. Even though he didn't know about his diagnosis, he wanted people to see he still went on to do all these great things, and the diagnosis will not ruin your life. 
Dave encouraged others to speak up and advocate for themselves when they're getting picked on. He also wanted others to know it's important to advocate for yourself. Finally, Dave encouraged teens to make sure they're keeping their teachers and parents in the loop about what's going on with them, and how they can help.