A doctor's son with Klinefelter syndrome: Dr. Emily's story.
Dr. Emily was 26 years old when she found out her unborn son may have Klinefelter syndrome (KS), or 47, XXY. As a medical student, she knew a bit about 47, XXY, but shared more about what her experience was like learning about the diagnosis, and raising her son Ari.
An unexpected blessing:
After experiencing a miscarriage, followed by unexplained infertility, Emily and her husband were elated to learn she was pregnant with their rainbow baby. They'd been told they would need to pursue IUI treatments to conceive. They were delighted by the unexpected pregnancy. 
Reeling from the unexpected loss of Emily's beloved sister, the couple felt thrilled to have something positive after such significant tragedies. Initially, Emily was reluctant to take the offered NIPT. She knew no matter what the test results were, they would see the pregnancy through. However, her OB/GYN encouraged the test to check for conditions such as Down syndrome or Turner syndrome. With conditions like these, they could do fetal echocardiograms to check for possible heart conditions (associated with both diagnoses)  before the baby was born. This made sense to Emily, so she agreed. 
A doctor's son with Klinefelter syndrome:
Having graduated from medical school in May 2020, Emily was pregnant during the first month of residency. She started her residency program in July, 2020, and is training to be a family medicine doctor. While driving home from a day of hospital rotation, her cell phone rang. She didn't answer, and the call went to voicemail. When she checked it, she found a message from her OB/GYN asking Emily to call on her personal cell phone. Emily thought "Uhh, what does that mean?" as she continued her drive home.
She arrived home and called her OB. The doctor said, "the baby's screening came back positive for Klinefelter syndrome." This was how Emily found out she was expecting a son. The OB went on to say "I'm sure you're familiar with Klinefelter syndrome from medical school," before launching into a list of possible learning and motor disabilities. She recommended Emily and her husband follow up with a genetic counselor. 
Initially, Emily felt saddened by the news. She was still mourning the loss of her sister, and felt overwhelmed by the possibility her child could struggle later in life. However, the more she thought about it, the more she was upset with herself for being upset at the diagnosis. Based upon her knowledge of Klinefelter syndrome from medical school, she knew most men with Klinefelter syndrome go on to live perfectly healthy, normal lives, and are productive members of society. 
Meeting the genetic counselor:
They met with the genetic counselor, who told them the chances of the NIPT results being accurate were only 30-40%. Emily and her husband decided if the results were positive, and their son had KS that would be fine. If he didn't, that would be okay too. At least they knew, and could be prepared for early interventions if needed. They were offered amniocentesis/chorionic villus sampling, but elected to do karyotyping after Ari was born. 
Her husband, who has a dual degree in biology and computer science, was familiar with Klinefelter syndrome from his college biology classes. Emily recalled he took the news better than she did, and said they'd support their son no matter what. His more direct response helped balance her more emotional one. Together, they felt prepared to welcome their son and do whatever he needed to help him succeed in life. 
A doctor's son with klinefelter syndrome: Sharing the news with family from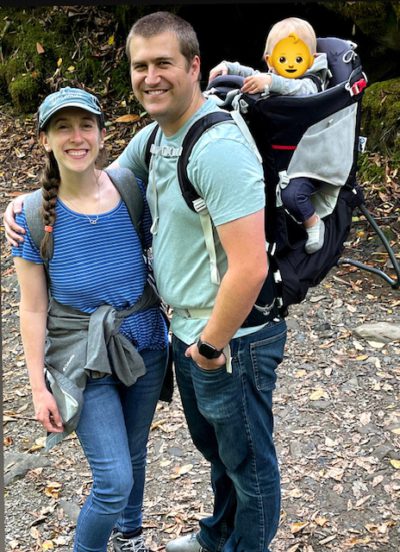 Emily and her husband told her parents about the NIPT. They told her husband's parents after the diagnosis with karyotyping was made after Ari's birth. Emily's father is also a family physician, and over the course of his career has had several patients with Klinefelter syndrome. He was supportive, telling them all of his patients were healthy, happy, had awesome jobs, and were great people. He believed their son would be fine and would be there to support them along the way. They told their best friends, but opted to keep the news private until they had a positive diagnosis after birth. They are still slowly telling friends and family. With the COVID, they haven't been able to gather with all of their friends and loved ones in person. They plan on telling everyone once they can talk face to face. 
Emily continued her pregnancy, and focused on enjoying it. The remainder of her pregnancy took place during the height of the COVID-19 pandemic, which meant she wasn't able to have a baby shower. Her medical school graduation was cancelled, and the loss of these important events felt isolating. 
A Doctor's son with Klinefelter syndrome, The delivery:
Overall, Emily's pregnancy continued without any complications. At 35 weeks pregnant, she started her rotation on the labor and delivery unit. While working a 24-hour shift, she went to lie down. She noticed a "crazy itching" in her hands and feet, but didn't think much of it. After mentioning it at her OB appointment the following day, it was discovered she had cholestasis. The condition is fairly rare in pregnancy. It occurs when the bile in the liver stops moving, and is connected with the rise of estrogen and hormones related to pregnancy. 
The plan was made to induce her at 37 weeks, which is considered full term to avoid any negative outcomes due to the cholestasis. Her induction went perfectly, and she had an epidural, which was wonderful. Even though the OB had warned them it could be a two to three-day process just 12 hours after starting the first medication, their son was born.
Confirming the diagnosis:
The neonatal pediatrician ordered the karyotype test after Ari was born. When Ari was about a day old, they did a blood draw before they left the hospital. The results took about four weeks to come in. No one had called when Emily ran into the pediatrician at the hospital, who told her the news. Ari did have 47, XXY.  
Even though the possibility of the diagnosis had been in the back of her mind, it wasn't something Emily had focused on too much in the days following Ari's birth. After receiving the news, she called her husband right away to update him, and then finished her training. She got home that night to her family, and had a "little bit of an emotional reaction" as she processed the news. More than anything, she worried about the potential difficulties with motor and neurodevelopment Ari might experience. She felt kind of sad, thinking about those possible difficulties for her baby. After she had sat with her feelings for a while, she thought "what's next? Where do we go from here?"
The Next steps:
When they'd met with the genetics counselor, she had told the family about the eXtraordinarY Kids care at the Cleveland Clinic. Emily called Ari's pediatrician, and requested a referral to the clinic. Emily and her husband wanted to get established with the clinic, and made a plan for Ari to be seen when he was eight weeks old. 
At the clinic, they met with a pediatric endocrinologist, and discussed the next step for Ari's care. They plan to return to be seen when he's three or four years old. The clinic also recommended at age three to four and offered the family a vast array of resources. They also spoke with a genetic counselor, and a plan to speak with a urology/fertility specialist at age three to four when they return for neurodevelopmental testing. 
Living with XXY:
Today, Ari is a healthy and happy toddler. Emily described him as "perfect." He's the happiest, giggliest little boy. He has "made their lives so much better," and they can't imagine not having him in it. One of the greatest joys for Emily was watching her parents become grandparents. Ari has brought joy and healing to their family after they experienced one of the greatest losses a family could endure. 
They continue to keep an eye on him for any developmental delays. However, Ari has so far met every milestone on time. He started crawling on time, and crawled "like a champ." About him having Klinefelter syndrome, Emily said, "there's nothing wrong with him; he's perfect."